Finally, we make a go to hold yaya's dinner party semalam, 7 april. Walaupun pada mulanya rasa agak keberatan, but it's not fair not to hold her birthday party, especially when fahmi dapat raikan birthday dia besar2an. Although it was not a successful party. For an instance, the birthday girl demam. Tengah malam before her party tiba2 badan dia panas. Dahlah 3 malam berturut2 berjaga malam sebab dia batuk teruk menjelang tengah malam sampai ke pagi.

Secondly, most of the invited guest tiba2 tak dapat datang. My mom balik Terengganu jaga nenek sakit. My dad, I dah agak bila ma takde memang susah nak pujuk abah datang, plus abah don't drive! Pak Ngah (my bro) pun tak dapat datang, problem transport gak. My best friend dari zaman sekolah (you know who you are) tiba2 ada urusan keluarga. Huhhhu… mana syok gini.


Alhamdulillah kak ya (my sis) and her kids, ebby (my younger bro) and his girlfriend datang jugak. Kalau tidak boring sihhh sedara mara takde, dahlah aku ni sebatang kara kat KL ni.
Seawal jam 4 petang caterer from eden catering dah terpacak depan laman rumah yang so sempit. Bagus diaorang ni, semua diuruskan sendiri takde gangguan langsung, terus we all keluar nak gi collect cake kat tropicana pun tak risau. Tengok tuh birthday cake yang sarat dengan macam2 figurine.




Anyway, alhamdulillah, walaupun siangnya nampak macam mendung nak hujan tapi tak jadi & cerah sampai habis aturcara. Thank you to those who came to make the party lively, js&her football team, watie&co, nad, kak eza yang sporting, acik… geram dengan qistina yang comel. Thank you for the presents.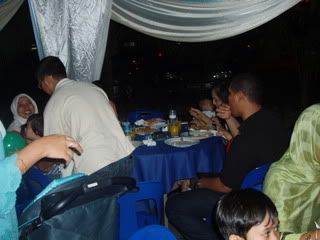 Uhhh penat walaupun pakai caterer. Penat Berkemas laman rumah sampai kol 1 pagi, pastu penat malam tu me & hubby both tak boleh tido jaga yaya tak sihat & meracau jer sampai lepas subuh baru dia tido nyenyak. Kesian my little princess. Oh ya, to my surprise anak mama dapat patung barbie lah... wink ;) wink ;) ... siaplah lepas ni dia kasik barbie pakai diapers.
So, today sepanjang hari, our main agenda is tido, tido tido!