Yes... finally we got our passports! after turning the house upside down searching for the kids birth certs & hubby's old passport, a trip to the police station making a police report for lost certs & passport, we finally get our passport on Tuesday 5 june 2007.
the process of getting our passports done wasn't easy thou.
1. hubby thought that the police report was enough to be attached with his application form, but when we get there Monday afternoon, his form was rejected and being requested to fill up another form which must be sign by court or at least certified by a COO!
2. mine & the kids get the officers' clearance and were given our calling no. except that the no. will only be called after their lunch breaks. which means we have to either berkampung at the immigration office or the coffee house nearby. we choose neither and head back home, had a quick lunch (tapau of course), tinggalkan bibik at home and rush back to immigration office. hubby sempat lagi punggah kotak dalam bilik, the box that I asked him to bring down to check kalau2 his old passport ada kat situ. he shud have done it earlier when I told him so, coz memang ada pun!
3. we were the first customer after lunch break, alhamdulillah. nasib baik hubby tak yah amik no baru, so all 4 application were processed together. wait again for our giliran untuk pay the fee. After we pay our fee we had to wait again untuk dapatkan no giliran to collect our passports pulak. the officer told us our passport can be ready today approximately around 4pm. what was supposed to be a 2 hrs waiting extended to more than 3 hrs. hubby cannot tahan, the kids pun cannot tahan… we left the place when we shud have leave the place 3 hrs earlier. my advice… if your application being processed after 2pm, dun wait, go home and comeback again the next day. save yourself from the irritating and frustration of waiting.
we came back on tuesday morning to collect our passports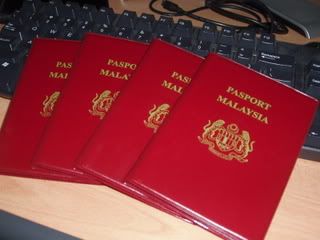 so that's it. our not so pleasant visit to the immigration office all because we arrive later than we are supposed to (thanks to hubby. a battle that I lost but a war that I won) and all because of troublesome and not so customer friendly system.