The kids is very much in raya mood. Just look at them, they are so excited to try out their raya outfit and willingly modeled it in front of us yesterday.
Our theme colour this year is blue, royal blue to be precise. Daddy & fahmi will be wearing baju melayu johor in plain royal blue. Mama & yaya will be wearing baju kurung in matching blue fabric with sequin… i bought the kain at a very cheap price of rm45 for 4mtrs, but since I only need 2mtrs for the baju and kain made from plain fabric (courtesy of daddy & fahmi's lot), so we were left with another 2 mtrs. Akhirnya jadilah baju kurung for yaya… amboiii lip lap lip lap anak dara mama. However, the one that appears in the pics is a different one.
Basically we've had everything covered for raya preparation. From the bajus, kasut, kuihs, furnitures, fittings etc. Except for fahmi's baju melayu, we are still in search for his samping. I went searching for his samping at subang parade & care4, but couldn't find any. A colleague suggested jalan masjid india, ohhh pleaseeee don't ask me to go shopping in kl, samping tak dapat sesat je yang lebih. So yesterday, me & hubby went to PKNS. It wasn't our usual shopping place, I'd normally went back to seremban for shopping. Heheh dah 6 tahun duk kl/Selangor pun masih buta jalan lagi. Alhamdulillah jumpa jugak, and since we didn't bring fahmi I wasn't sure about the size so we ended up buying two pieces of samping, one L sized and another M sized. Both checked blue & white samping.
Sesampai kat rumah, I asked fahmi to try it one. He's so excited that when I asked him to put on the baju + samping, he looked dazzled. He thought that the samping is to be worn alone macam skirt! Aduiii, mama masih waras lagi hehehe.
I also bought yaya a pair of new baju kurung complete with bead trimmings at the colar (the one in the pics). It was so cute, and she really needs extra baju kurung for the company's buka puasa cum annual dinner nanti. The gap between the dinner and hari raya was so close I don't want to let her wear her sequin baju kurung and take the risk baju tak sempat kering nanti. Faham2 jelah dah suntuk masa sangat nanti semua bertaburan jadi tak organized. Not when I've tried my best making early preparation.
· sofa covers sent for dry cleaning, and it came back looking the same as it looked before laundry. pardon me but for someone who hates to do laundry and dish washing, i don't know how to get the stains removed
· hung the new sheer curtain yesterday. I purposely choose ready made sheer from ikea in purple and magenta shades. It look nice thou without inner layer of plain white sheer. Maybe when the white sheer is ready from laundry I'll just hang it and see what difference does it made. If the effect look less presentable, I'll let the white sheer berehat buat sementara waktu.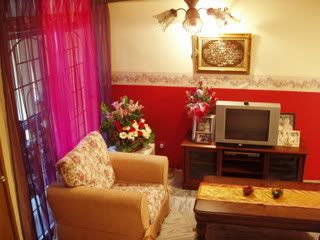 · the colourful flowers blend together with the wall paint and sheer curtain. It creates a romantic ambience especially under the shower of dim yellow lights.
· raya cookies ordered and received. the only homemade is going to be hubby's all time favourite pineapple tarts but i ordered some as well in case he & fahmi go through a cookies marathon before we celebrate raya. and i also ordered kek lapis sarawak from my sarawakian friend
· and i bought myself blue zircon bangles (is it bangles or bracelet?) to go with my blue kurung moden
· all my nieces & nephews dah dapat their baju raya complimentary from their auntie yang gila shopping baju budak2 kat FOS... pergi FOS jer rm450 terbang...
· buah tangan for MIL dah beli. dah tak tau nak beli apa, baju dah banyak sgt, so i bought a set of Tupperware food containers from her. this year around we will be celebrating 1st raya at MIL's house...
iskk iskkk
apart from above apa lagi ye? i'm not good at doing and re-doing list... i had this habit of memorising everything but when the time comes there's a good chance that i'd miss out on one or two thing.
today's menu for berbuka is masakan ala kampung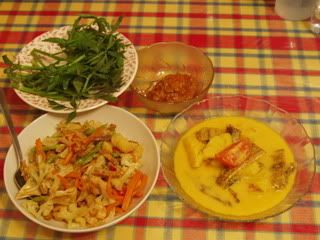 ikan talang masin lemak nenas, sayur goreng style jawa, ulam selom (mmm my favourite!) and sambal belacan!