I don't know for how long the big plate restaurant has been standing proudly in subang permai, but ever since I reside in this neighbourhood 5 years ago, the name has become a household name. some of my officemates who resides in neighbouring area has been telling me that i should try the big plate, they serve delicious western cuisine. tak pernah lagi rasa terpanggil to try out this restaurant but kebelakangan ni rasa terpanggil untuk mencuba. sangat2 terpanggil… another sign of
pms syndrome
?
last Friday was my pay day so ajak hubby to have dinner at big plate. except that it turns out hubby had to foot the bill instead coz my pay is on 1 day float…hehehe… ;-) we arrive at almost 9pm, the restaurant that's occupying 3 rows of shoplots is almost full! i'm a big fan of dory fish so I chose to try out their Pan Fried Dory Fillet serve with potato salad and fresh vegetables. Hubby chose his all time favourite lamb chop or famously known at the restaurant as Kambing Banting serve with black pepper sauce, potato wedges, veggies & corn on cob. hubby had the gut to ask why banting not klang? I dunno whether it means they get their supply from banting but most of their poultry dishes accompanied with the word banting. we ordered kiddies spaghetti in creamy sauce for my kids and sautéed chicken serve with potato wedges & corn for bibik.
luckily before we left home my kids already had some light meal & I managed to duck into a few pieces of pegedil kentang at home. if not I think I wud be screaming at them coz the serving time was far beyond the tolerable time limit. we had to wait for 1 hour for our food to be served! hubby who came empty stomach had to chew on his patient, and the kids start throwing their tantrums not because they were hungry for food, i guess they were bored. me & hubby plak keep on scolding them from crawling under the table. from the minutes the waiter took our order, the drinks were only served to us after 30mins.
okay maybe I'm not a professional food critic from a reputable mags etc but this is based from my own personal experience eating there. mejanya kotor, I ask for a wet cloth from the waiter but she didn't came back, I had to ask from another waiter. the ambience was far from cosy, it was a typical malay restaurant, they serve food so the interior deco was not given much detail, lighting was very bad you can see burnt light bulbs tak berganti, the floor was dirty, tables tak tersusun dengan baik. although you go there just for makan2 but the atmosphere and cleanliness does count, for me at least.
apart from that, the food was very very delicious. I like the way my pan fried dory presented, and am surprised to see a dash of red & black caviar on top of the fish. the fish was juicy… ummm yummy. hubby's large portion of kambing banting was not bad. same goes to bibik's sautéed chicken & the kids spaghetti. all in all the 1 hour waiting in agony worth it.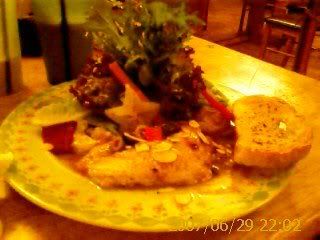 we wud frequent the place if they'd upgrade their service and tidy up the place. they should employ more waiter/attendant considering what a big name they are in town. I heard they had 5 branches in klang valley. it seems they are doing well.
i'd go again next time, maybe berdua lebih baik :-)
p/s: pics will be upload later... err much much later coz hubby is away for the whole week. snapshots taken using his hp camera