Bali Day 4
Last day in Bali
Return to KL
after having our last breakfast at the resturant, say goodbye to one mat salleh couple yang dah berumur, we went for a short walk down the beach for our last mini shopping. i saw sequin sandals the day we arrived here, so decide to buy them for my mum, sis & sil.
kami dah berjanji dengan Wayan who agreed to send us to the airport pagi itu. the check out was very smooth, alhamdulillah, and we left the hotel at around 10.30am to catch our return flight at 1.55pm.
flight tak penuh sangat. kat airport sempat lagi grab 2 helai t-shirt polo, one for me & one for hubby, dapat 30% off. and sempat lagi snap pic ni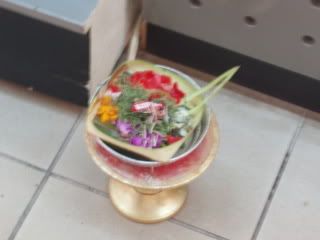 everywhere baik di hotel, di kedai2, di patung2 mahupun dalam kereta Wayan or kereta orang lain we spotted this. aku fikir tujuannya sebagai wangian, yelah bunga rampai dalam bekas daun kelapa. but hubby says itu untuk orang sembahyang... i wanted to ask but i don't dare to takut offend orang pulak. dah lah tempohari aku tegur tuan kedai tu tengah cucuk2 daun kat batang lidi, i thought dia jual sirih yang dah siap dikapur, rupa2nya untuk sembahyang
we touched down at lcct 30mins earlier than the eta. laju giler pilot ni bawa... hehe. this time around much to our surprise none of the flights were delay. it took off on time and arrive earlier than eta.